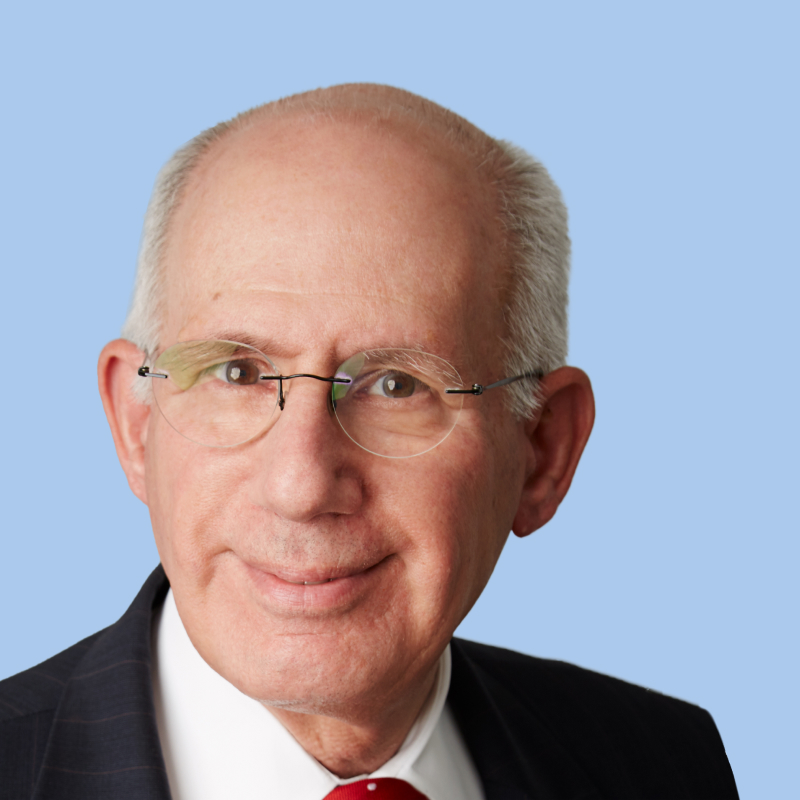 Daniel J. Kornstein
Dan Kornstein is a skilled, experienced, and successful trial lawyer and appellate advocate, with an exciting and varied civil litigation practice. He has conducted over 100 trial-type proceedings (including 20 jury trials) and argued more than 80 appeals. To each case he brings a creative, energetic, and aggressive approach. Dan's clients range from individuals (including Pulitzer Prize-winning authors, Academy Award winning actors, publishing executives, and rising entrepreneurs) to large corporations and financial institutions. In his 50 years at the bar, he has litigated several notable First Amendment cases, as well as substantial antitrust, securities, commercial, employment, product liability, family law, and international matters.
"Mr. Kornstein is a man of high principle, great compassion and profound intelligence who has elevated the practice of law to the level of moral statement. He has the personal integrity to stand up for people, books and causes he believes in, even when others do not." Joe McGinniss (author), Acknowledgment in Blind Faith (1989).
Dan has been chosen as a New York Super Lawyer (Business Litigation) for many years, including this year, and named in "The Top 100" in the 2010 New York Super Lawyers Metro Edition. For more than 30 consecutive years, Dan has been listed in the Best Lawyers in America in the Business Litigation category, and for 2024 is listed in two litigation practice areas: Commercial Litigation, and Trusts & Estates. He was the subject of a feature article ("Dan's Law") in the New York Metro 2012 Super Lawyers Magazine.
Before joining the firm in 2015, Dan was a founding partner of what the New York Law Journal referred to as the "prominent" "powerhouse" litigation boutique Kornstein Veisz Wexler & Pollard, LLP, where he practiced for 35 years until the firm dissolved.
"Dan is a complete lawyer, a lawyer not only as a master of technique, but also a lawyer as philosopher, as historian, as humanist." Jack Fuller, Pulitzer Prize winner and former editor-in-chief and president of the Chicago Tribune (Super Lawyers Magazine New York Metro 2012).
"Mr. Kornstein is a brilliant lawyer." Washington Times, July 24, 1994
A "polymath" and "a premier New York litigator." Andrew J. Field, Chess and the Law (2019).
"an outstanding defamation lawyer . . . who has fearlessly stood at the forefront of the American libel reform campaign" Cardozo Journal of International and Comparative Law (2012)
"Combines a very effective New York legal practice with apparently indefatigable intellectual curiosity and drive." Michael Pakenham (former book editor, Baltimore Sun) 2014
"Armed with deep knowledge of the law, easygoing, very patient, and a gifted performer with the instincts of a boxing champion, Dan elegantly thwarts his opponents' arguments in court." Rachel Ehrenfeld, American Center for Democracy (Blog, April 4, 2014)
"a highly regarded attorney . . . a man of letters with noble values and an abiding love of America and its promise" Michael Miller, New York Law Journal (June 19, 2014)
A past president of the Law & Humanities Institute, Dan has coupled a busy law practice with frequent writing and speaking about the law. He has published ten non-fiction law-related books, eighteen law review articles, and hundreds of essays and book reviews (many in the New York Law Journal). His work has also appeared in the New York Times, Wall Street Journal, Chicago Tribune, Baltimore Sun, USA Today, and Boston Globe, and has been cited by a number of courts, including the U.S. Supreme Court. Dan's most recent book — Uncle Sam Wanted Me — is about his experience as a draftee in the U.S. Army during the Vietnam Era and was published in 2022. In 2020 he published Legal Writing and the Lone Ranger and in 2017 Dan published a book-length study of Oliver Wendell Holmes, Jr. titled The Second Greatest American, one of Lawline's "20 Books for Your 2020 Reading List."
In 2015, Dan gave a keynote address on "Creative Lawyering" – one of his signature topics – to the Federation of Defense and Corporate Counsel. In 2012, the New York Court of Appeals invited Dan to deliver a public lecture at the Court on "Shakespeare and the Law." In 2002, Dan received the Prix du Palais Littéraire from the Law & Literature Society of France. At the award ceremony in May 2002 in the Palais de Justice in Paris, Dan delivered an address in French on "Balzac and the Law After 9/11: A New York Lawyer's View."  From 1988 to 1995, Dan was an adjunct professor at New York Law School, where he taught a course on Defamation, Privacy and Publicity.
After publishing his influential book in 1994 on Shakespeare and the Law — Kill all the Lawyers? (Princeton U. Press) — Dan was invited to participate in several moot courts based on Shakespeare's plays. Over the years, Dan has both defended Hamlet and later prosecuted him, represented Shylock and in another moot court represented his nemesis Antonio, and once represented King Lear in an effort to recover the gifts given to his evil daughters Goneril and Regan when Lear arguably lacked the required mental capacity. Dan's Shakespeare moot courts have taken place at the New York City Bar Association (N.Y. Times, Oct. 18, 1994), the Shakespeare Society (N.Y. Times, Nov. 17, 2004), Yale Law School, Cardozo Law School (The New Yorker, Dec. 22, 2008), Hofstra Law School, and Weill Cornell Medical College (Cornell Chronicle, Oct. 20, 2006).
During the Vietnam era, Dan served in the U.S. Army on active duty in 1969-71 with the First Armored Division and the First Cavalry Division. He was a legal clerk on the prosecution team in the 1970 My Lai Massacre court-martial of one of Lt. William Calley's platoon sergeants. Based on that experience, Dan wrote two articles for the Yale Law Journal that were cited by the courts, one by the U.S. Supreme Court. At the end of his tour of active duty, Specialist Fifth Class Kornstein was awarded the Army Commendation Medal for "exceptionally meritorious service." In 1979, Dan testified in Congress on behalf of the NYC Bar Association regarding reinstituting registration for the draft.
Read More
Education
Yale Law School, J.D., 1973
Note and Comment Editor, Yale Law Journal
City College of New York, B.S., 1968
Phi Beta Kappa
Felix Cohen Prize in Legal Philosophy
Admissions
U.S. Supreme Court
U.S. Tax Court
U.S. Court of Appeals, First Circuit
U.S. Court of Appeals, Second Circuit
U.S. Court of Appeals, Third Circuit
U.S. District Court, Southern District of New York
U.S. District Court, Eastern District of New York
U.S. District Court, Western District of New York
New York State
Memberships
American Bar Association (section on litigation)
New York State Bar Association
Commercial & Federal Litigation Section
Task Force on the Evaluation of Candidates for Election to Judicial Office (2018-19)
Federal Bar Council
Supreme Court Historical Society
New York City Bar Association
Chair, Committee on Legal History (2017-20)
Committee on Military Justice/Military Affairs (1975-78)
Committee on Federal Legislation (1978-81)
Committee on Lectures and Continuing Education (1982-85)
Committee on the Profession (1988-92)
Committee on Women in the Profession (1992-95)
New York County Lawyers' Association
Chair, Committee on Law and Literature 1999-2009
President, The Law & Humanities Institute (1991-98)
Member, Harper Lee Prize for Legal Fiction Selection Committee (2014)
Historical Society of the New York Courts
American Civil Liberties Union
Attorney News
Representative Cases
Won two appeals affirming decisions for discovery under 28 U.S.C. § 1782 in aid of foreign proceedings on behalf of a victim of alleged large international art fraud. In re Accent Delight Int'l Ltd., 869 F. 3d 121 (2d Cir. 2017) and 791 Fed. App'x 247 (2d Cir. 2019). Currently representing same clients in federal suit against large auction house for allegedly aiding and abetting fraud and breach of fiduciary duty. Accent Delight Int'l Ltd. v. Sotheby's, (Dkt. No. 18 Civ. 9011) (S.D.N.Y.) (Furman, J.). Case is set for trial in January 2024.
Successfully represented a prominent sculptor (Winston Churchill's granddaughter) who sued because a number of her original sculptures were broken while in the care and custody of defendants. After discovery and mediation, the matter settled favorably. Sandys v. Inson Dubois Wood LLC (Sup Ct. N.Y. Co. 2017).
Dan litigated this breach of contract case on behalf of a company that supplied home health care aids to a nursing home that failed to pay. After a court ruling that denied dismissal of a claim for personal liability against the nursing home owner, the case settled in February 2019 for one hundred cents on the dollar ($6.5 million). Caring Professionals Inc. v. Excellent Home Care Services LLC (Sup. Ct. Kings Co. 2019).
Dan represented an advertising agency and mobile phone manufacturer sued for copyright infringement for using an excerpt of a song by deceased singer Nina Simone without paying the singer's estate. Agency and manufacturer had paid a licensing organization for what they thought were the applicable rights. Case settled. Estate of Nina Simone v. HTC Corp. and Deutsch LA (S.D.N.Y. 2017).
In this breach of contract case, our client sued the New York City Economic Development Corporation for real estate brokerage commission due on renewal of a lease originally obtained by the broker. Case quickly settled for almost $500,000. Schlesinger & Co. v. NY EDC (Sup. Ct. N.Y. Co. 2017).
Won Article 78 proceeding vacating denial of J-51 tax benefits to landlords following their renovations to residential rental properties. Ninth Avenue Realty LLC, et al. v. The City of New York, et al. (Sup. Ct. N.Y. Co. Oct. 10, 2018).
Won summary judgment dismissing remaining claims in a derivative suit by a limited partner against real estate partnerships. NWM Capital, LLC v. Scharfman (Sup. Ct. N.Y. Co. Sept 14, 2017), aff"d, 168 A.D. 3d 624, 2019 NY Slip Op 00674 (1st Dep't Jan. 31, 2019). Previously won dismissal of other claims. 144 A.D.3d 414 (1st Dep't 2016). In ruling on a motion for legal fees, Judge Barry Ostrager stated, "Mr. Kornstein is a very creative and effective lawyer." (Sup. Ct. N.Y. Co. Jan 25, 2018).
Filed amicus brief in the U.S. Supreme Court in November 2016 on behalf of Asian Americans Advancing Justice/AAJC and other civil rights and advocacy groups in Matal v. Tam, 137 S. Ct. 1744 (2017) concerning the right to trademark derogatory terms such as "Slants" for an Asian -American band.
Won an appeal dismissing a $300 million defamation suit. El Jamal v. Weil, 116 A.D. 3rd 732, 988 N.Y.S.2d 146 (2d Dep't 2014).
Won dismissal for 44 former partners of the law firm Dewey Ballantine LLP of suit brought by former landlord seeking personal liability for $220 million of unpaid rent. 1301 Properties v. Abelson, et al. (Sup. Ct. N.Y. Cnty. Apr. 1, 2016).
Litigated a landmark case about (1) client gifts to lawyers, (2) the "continuous representation" doctrine, and (3) unconscionability standards for contingency fee agreements. Lawrence v. Graubard Miller, 106 A.D.3d 607, 965 N.Y.S. 2d 495 (1st Dep't 2013), rev'd, 24 N.Y.3d 320 (2014).
Won an arbitration award for regional bank making $23 million in home equity lines of credit subject to repurchase because they violated underwriting guidelines or were marred by fraud. Also won $3 million in legal fees and $445,000 in discovery sanctions. M&T Bank v. First Tennessee Bank. (AAA 2013)
Obtained a $55 million settlement for regional bank in suit against several defendants for misrepresentations concerning collateralized debt obligations. M&T Bank Corp. v. Gemstone CDO VII Ltd., et al. (Sup. Ct. Erie Co. 2008).
Litigated the leading "libel tourism" case, which the Financial Times called "perhaps the highest profile case of the past few years." Ehrenfeld v. Mahfouz, 489 F.3d 542 (2d Cir. 2007). Dan represented American author Rachel Ehrenfeld suing in federal court here to declare an English default libel judgment unenforceable under U.S. law. Although the New York Court of Appeals, answering a certified question, denied personal jurisdiction based on the language of New York's long-arm statute, it invited the state legislature to change the law. 9 N.Y.3d 501, 851 N.Y.S.2d 381 (2007). The legislature promptly responded in April 2008 by unanimously passing the Libel Terrorism Protection Act to provide such personal jurisdiction in CPLR 302(d), and to make a foreign defamation judgment unenforceable if the foreign proceeding did not provide "at least as much protection for freedom of speech and press in that case as would be provided by both the United States and New York Constitutions." CPLR 5304(b)(8). The Ehrenfeld case prompted similar legislation in other states and at the federal level. In 2010, Congress passed and President Obama signed into law the federal SPEECH Act modeled on the New York statute. 28 U.S.C. §§ 4101-05. The New York Times called the federal law "a victory for writing."
Was co-trial counsel in a patent contract case resulting in a jury verdict for $25 million in damages and $10 million in interest. DePuy Inc. v. Biomedical Engineering Trust (D.N.J. 2000).
Won an $8.2 million judgment for a limited partner after a two-week trial against the general partner of a real estate limited partnership. Burstin Investors, Inc. v. K.N. Investors, Ltd., 239 A.D.2d 376, 657 N.Y. 743 (2d Dep't 1997).
Represented Joe McGinniss, author of the true crime classic Fatal Vision, in a controversial suit brought by triple murderer Jeffrey MacDonald. This case, called "one of the most extraordinary civil actions in American legal history" (Edward Knappman, ed., Great American Trials [1994]), was the subject of Janet Malcolm's influential book The Journalist and The Murderer. A seven-week trial resulted in a hung jury, and the case was later settled for the same sum offered to MacDonald before trial by the publisher's insurer. According to a 1988 article in the American Lawyer about the trial, "Kornstein, an experienced trial lawyer, was not about to let MacDonald elicit unwarranted sympathy from the jury. In an incisive and at times devastating cross-examination, [Kornstein] would pick apart MacDonald's complaints about the book." MacDonald v. McGinniss (C.D. Cal. 1987).
Represented a famous actress whose contract engagement was canceled by the Boston Symphony Orchestra because of her political views. A highly publicized three-week jury trial resulted in substantial damages for breach of contract. Controversial appeals interpreted the scope of the Massachusetts civil rights law. Vanessa Redgrave v. Boston Symphony Orchestra, Inc., 557 F. Supp. 230 (D. Mass. 1983) (denying motion to dismiss); 602 F. Supp. 1189 (D. Mass. 1985) (ruling on post-trial motion); 855 F.2d 888 (1st Cir. 1988); 399 Mass. 93, 502 N.E.2d 1375 (1987) (answering certified question).
Represented a Hollywood star in breach of contract case arising out of the actor's role as a corporate spokesman. Case settled at trial. Kirk Douglas v. Unisys (S.D.N.Y. 1989).
Won early dismissal of a suit by the Romanian government against the former ruler of Romania alleging wrongful taking of $500 million in national art work. State of Romania v. Former King Michael (Sup. Ct. N.Y. Co. 1994), aff'd, 212 A.D.2d 422, 622 N.Y.S.2d 704 (1st Dep't 1995). After the victory, the King wrote Dan: "Your great expertise and relentless efforts have finally brought to an end a matter which I found most upsetting and humiliating." In 2013, in recognition of his legal services, King Michael knighted Dan by naming him an officer of the Order of the Crown of Romania.
Won over $1 million settlement while jury was deliberating after two-week trial based on look-alike sound-alike claim against fast-food chain and advertising agency. Wilford Brimley v. Hardee's and Ogilvy & Mather (S.D.N.Y. 1995) (Kaplan, J.).
Local counsel for former President Bill Clinton and Senator Hillary Clinton in a successful effort to dismiss a defamation suit by N.Y. Post former gossip reporter Jared Paul Stern. Stern v. Burkle, N.Y.L.J., July 7, 2008, at 18 col. 1 (Sup. Ct. N.Y. Co.).
Local counsel for former President Bill Clinton in a successful effort to quash a deposition subpoena in a libel case arising from the book Primary Colors by Joe Klein. Carter-Clark v. Random House, Inc., 2002 WL 31748573 (Sup. Ct. N.Y. Co. 2002).
Successfully defeated preliminary injunction motion brought by former employer regarding non-compete agreement. Rosetta Marketing Group, LLC v. Michaelson, (Sup. Ct. N.Y. Co. 2012). Decision affirmed on appeal. 107 A.D.3d 536, 966 N.Y.S.2d 671 (1st Dep't 2013).
Represented broker-dealer in FINRA Arbitration (Sept. 2011) in breach of non-solicitation clause case involving corporate raiding of entire convertible bond trading department. Four-day evidentiary hearing resulted in a favorable award of almost $700,000. Jones Trading Institutional Services LLC v. Nomura Securities Int'l, Inc.
Won summary judgment to enforce contract between unmarried couple who ended relationship, with court holding that past cohabitation is adequate consideration for agreement to provide $500,000 in financial support. Kamil v. Richenthal, 2010 WL 2594276, N.Y.L.J., July 1, 2010, at 26 (Sup. Ct. N.Y. Co.)
Won summary judgment for plaintiff on defendant's liability for breach of contract for sale of a barge of methanol. Mitsubishi Int'l Corp. v. Interstate Chemical Corp., 2008 WL 4387392, 67 U.C.C. Rep. Serv. 2d 614 (S.D.N.Y. 2008) (Rakoff, J.).
Defeated a preliminary injunction motion, Medici Classics Productions LLC v. Medici Group LLC, 590 F. Supp. 2d 548 (S.D.N.Y. 2008), and then won summary judgment dismissing this trademark infringement case involving recordings of classical music. 683 F. Supp. 2d 304 (S.D.N.Y. 2010).
Obtained court rulings on in limine motions and "serious and important issues about the obligation of the court and counsel when it appears that a client who is a defendant in a civil action lacks capacity to assist or participate in the defense of that action." Cheney v. Wells, 874 N.Y.S.2d 679 (Surr. Ct. N.Y. Co. 2008), 899 N.Y.S.2d 605 (Surr. Ct. N.Y. Co. 2008), and N.Y.L.J., Oct. 21, 2008, at 35.
Dan was retained shortly before trial by a lawyer and his law firm who were defendants in a suit for various business tort claims seeking millions of dollars by a former CEO of a company. A trial in federal court resulted in a hung jury, but Dan's post-trial motion won complete dismissal of all claims. Finkelstein v. Wachtel, 2003 WL 1918309 (S.D.N.Y. 2003).
Dan, representing a Chinese clothing manufacturer in a breach of contract case, won summary judgment for $2.9 million, and then won summary judgment to pierce the corporate veil of the defendant corporation to obtain judgment against the principal. Shanghai Join Buy Co., Ltd. v. PSTEX Group, Inc., (S.D.N.Y. 2004).
Successfully represented author/collaborator of book about actress's life. All claims by actress were "denied in their entirety" after trial. Valerie Harper v. Nancy Jo Sales, (AAA Arbitration 1997).
Dan was retained to defend a state court action seeking to compel his client (an insurer) to pay health benefits to alleged union members. He removed the case to federal court, commenced a civil RICO impleader action, won a $26 million judgment in our client's favor, and obtained a criminal referral by the trial court that resulted in the criminal conviction of the mastermind of the fraud. Soanes v. Empire Blue Cross and Blue Shield, 970 F. Supp. 230 (S.D.N.Y. 1997). U.S. v. Sprei, 145 F.3d 528 (2d Cir. 1998).
Availability of punitive damages in securities arbitration. Barbier v. Shearson Lehman Hutton, Inc., 752 F. Supp. 151 (S.D.N.Y. 1990), modified, 948 F.2d 117 (2d Cir. 1991).
In this important libel case, Dan won reversal of the district court's dismissal of a complaint based on a defamatory description of a character with the same name as plaintiff in a novel written by a co-worker of plaintiff. The appellate decision established the test for libel in fiction: whether reasonable readers can associate plaintiff with the fictional character. Geisler v. Petrocelli, 616 F.2d 636 (2d Cir. 1980).
In this leading antitrust case involving media advertising, Dan, up alone as a solo practitioner against several of the biggest and most prestigious law firms in New York, won a huge victory on appeal, reversing summary judgment against the plaintiff (Dan's client). Judge Henry Friendly, in a landmark opinion, analyzed the standards for summary judgment in a Sherman Act § 1 conspiracy case, held that those standards were not met, and remanded the case, which then led to a settlement. Ambook v. Time, Inc., 612 F.2d 604 (2d Cir. 1979).
The Busker Alley Company Limited Partnership v. Tommy Tune, (Actors' Equity Ass'n Arbitration 1993). Dan won an arbitration for Tommy Tune involving alleged breach of contract in connection with Broadway show "Busker Alley." After the decision, Tommy Tune wrote to Dan: "Congratulations on a job beautifully expedited and handled with great acuity and class… So just let me thank you profusely for your fine handling of this ridiculous and ludicrous matter… I think the world of you."
Minority shareholder rights and employee-at-will doctrine. Gallagher v. Lambert, 74 N.Y.2d 562, 549 N.Y.S.2d 945 (1989).
Dan defended The Monkees in a breach of contract lawsuit brought by their personal manager. Fishof v. The Monkees, (Sup. Ct. N.Y. Co. 1988).
Dan represented actor Harvey Keitel in a child custody dispute. Lorraine Bracco v. Harvey Keitel, (Fam. Ct. Rockland Co. 1993). 203 A.D.2d 283, 612 N.Y.S.2d 887 (2d Dep't 1994) Won reversal of "gag" order. 222 A.D.2d 501, 635 N.Y.S.2d 73 (2d Dep't 1995) Won reversal of finding of contempt. 245 A.D.2d 369, 665 N.Y.S.2d 590 (2d Dep't 1997) Won modification of Family Court order.
Represented light heavyweight boxing champion in contract dispute with former manager. Gregory v. Scorcia, 493 F. Supp. 984 (S.D.N.Y. 1980).
Show More

REPRESENtATIVE CASES (37)
Publications
Recent Articles

"A Cautionary Tale of Relying Too Much on Judges to Police Themselves"

Sept. 14, 2023 —

New York Law Journal

Review of "Myron Taylor: The Man Nobody Knew"

June 23, 2023 —

New York Law Journal

"'Shyster' and Anti-Semitism: A Delayed Reaction"

May 15, 2023 —

New York Law Journal
"The Case of the Three 'Logical' Men Named Holmes"

Dec. 8, 2022 —

New York Law Journal

"Lemonade from the Dobbs Lemon"

Aug. 16, 2022 —

New York Law Journal

"Shakespeare and the Pardon Power"

Jan. 19, 2021 —

New York Law Journal

Review of "Chess and the Law" by Andrew J. Field

Oct. 9, 2019 —

New York Law Journal

"What to the Disenfranchised Voter Is Democracy?"

Dec. 12, 2018 —

New York Law Journal

"O.W. Holmes Jr. and #MeToo,"

April 24, 2018 —

New York Law Journal

'Forget About the Law'?

Oct. 3, 2017 —

New York Law Journal

Books

Uncle Sam Wanted Me: Ripened Reflections of a Lucky Vietnam Era Draftee

"An engaging memoir. . . . One of the best parts of the book deals with his challenge — five decades later — to recount the thoughts and feelings that his 21-year-old self grappled with. . . . The upshot of Kornstein's story brings to mind the famous Aldous Huxley statement: 'Experience is not what happens to a man; it is what a man does with what happens to him.'" — New York Law Journal.

Legal Writing and the Lone Ranger: Every Lawyer Has a Silver Bullet

"In entertaining language, it offers concrete examples and simple advice on how to become a better writer — and better lawyer . . . accessible, accurate, and astute . . . Kornstein makes the practice of law comprehensible and interesting . . . should be an icon on every lawyer's desktop."

"Quick, awesome read . . . great book for any lawyer who needs a refresher on persuasive writing. I've read this book many times . . . great read for any lawyer irrespective of how long you've been practicing."

Menachem Kastner, Amazon five-star review online

"a great contribution to the legal profession . . . short, and easy to read — actually DOING what it says TO DO: be creative and write clearly, simply, and avoid legalese . . . so important for anyone who does any kind of legal writing." — Joseph D. Nohawicka

The Second Greatest American (Oliver Wendell Holmes, Jr.)

On Lawline's "20 Books for Your 2020 Reading List"

Loose Sallies: Essays

A "rich work . . . exquisitely focused, eloquently written, coherent discussion of some of the most important aspects of American exceptionalism and the practical role that seminal U.S. Supreme Court decisions play in the vitality of the American democratic experiment . . . . a love story — a highly personal story of the author's unabashed affection and admiration for the law and the fundamental values of American exceptionalism: freedom of expression, religious liberty and the right to privacy . . . . demonstrates that good legal writing doesn't have to be boring, dense or hard to follow . . . legal writing at its very best . . . legal writing as literature . . . Kornstein's essays inspire us"

Something Else: More Shakespeare and the Law

Unlikely Muse: Legal Thinking and Artistic Imagination

"fascinating," "a thought-provoking study of the influence that law may have on the creative process," "an important addition to the expanding study of law and literature by one of its foremost proponents"

Partial Verdicts: Essays on Law and Life

"A delight. Kornstein's wide-ranging essays strike the perfect balance of pleasant-to-read and smart…a great gift for any lawyer…[I was] able to appreciate the author's wisdom and self-effacing humor."

Amazon online, five-star review

The Elsinore Appeal: People v. Hamlet

1996 —

St. Martin's Press

"An offbeat intellectual pleasure"

Kill All the Lawyers? Shakespeare's Legal Appeal

1994 —

Princeton University Press

"excellent . . . the distinctive voice of an American lawyer [who] speaks to our era in the polished cadences of an experienced advocate, who is as much at home in the courtroom as in the world of Shakespeare"

Yale Journal of Law and Humanities

"A testimonial to cultural literacy at its best. To have a [book] as carefully researched and gracefully written as this emerge from a literate lawyer's pen is modestly reassuring about the future of culture itself."

"one of the liveliest and most original books on Shakespeare" — Theodore Ziolkowski

1997 —

The Mirrors of Justice

"a book brimming with imaginative reflections about Shakespeare and the law"

1994-1995 —

Scribes Journal of Legal Writing

"a ground-breaking study in the field of literature and the law, ambitious and suggestive of the value of both our literary and legal inheritance"

Thinking Under Fire: Great Courtroom Lawyers and Their Impact on American History

The Music of the Laws

"a book that deftly and lovingly discusses the law and those who build their careers on it"

Entries on Arthur Liman and Lloyd Paul Styker in

2009 —

The Yale Biographical Dictionary of American Law

Entry on "Literature and Crime" in

2002 —

Encyclopedia of Crime & Justice

Chapter 38A on "Impeachment of Partial Verdicts" in

1982 —

Criminal Defense Techniques (Matthew Bender)

"Shakespeare and the Law" in Shakespearean Criticism, Vol. 171, edited by Lawrence Trudeau, at 125-36

"A New York Jewish Lawyer's View" in

2011 —

The King's World (about King Michael of Romania) at 122-24

Law Review Articles

"The Myths of Thane Rosenbaum," 4 Cardozo Public Law

2006 —

Policy and Ethics Journal 33

"Does Love of Literature Promote International Law?"

2006 —

12 ILSA Journal of International and Comparative Law 491

"Mark Twain's Evidence," (on the Shakespeare authorship debate)

2005 —

72 Tennessee Law Review 1

"A Comment on Prof. Halper's Reading of Measure for Measure"

2001 —

13 Cardozo Studies in Law and Literature 265

"He Knew More: Balzac and the Law"

2000 —

21 Pace Law Review 301

"A Practicing Lawyer Looks Back on Law and Literature"

1998 —

10 Cardozo Studies in Law and Literature 117

"The Byronic Hero Meets the Law and Literature Movement"

1997 —

46 Emory Law Journal 1615

"The Double Life of Wallace Stevens: Is Law Ever the 'Necessary Angel' of Creative Art?"

1997 —

41 New York Law School Law Review 1187

"Fie Upon Your Law!"

1993 —

5 Cardozo Studies in Law and Literature 35

"Twisted Vision: Janet Malcolm's Upside Down View of the Fatal Vision Case"

1989 —

1 Cardozo Studies in Law and Literature 127

"The Case Against Lillian Hellman: A Literary/Legal Defense"

1989 —

57 Fordham Law Review 683

"The Success of the Word: The Literary Critic as Constitutional Theorist"

1985 —

4 Cardozo Arts & Entertainment Law Journal 277

"Inheritance: A Constitutional Right?"

1984 —

36 Rutgers Law Review 41. Cited in Klauser v. Babbitt, 918 F. Supp. 274 (W.D. Wis. 1996)

"Impeachment of Partial Verdicts"

1992 —

54 St. John's Law Review 663 (1980). Cited in State v. Shomo, 129 N.J. 248

"A Bayesian Model of Harmless Error"

1976 —

5 Journal of Legal Studies 121. Cited in U.S. ex rel. Bilyew v. Franzen, 686 F.2d 1238 (7th Cir. 1982); McQueeney v. Wilmington Trust Co., 779 F.2d 916 (3d Cir. 1985); Derrick v. State, 773 S.W.2d 271 (1989)

"Taps for the Real Catch-22"

1972 —

81 Yale Law Journal 1518. Cited by Justice Potter Stewart in Parker v. Levy, 417 U.S. 733 (1974) (dissenting opinion); 478 F.2d 772 (3d Cir. 1973); Stolte v. Laird, 353 F. Supp. 1392 (D.D.C. 1972). In a letter to Dan, Justice Stewart wrote: "Your Yale Law Journal piece provided more than a little inspiration for my dissent in Parker v. Levy."

"A Defendant's Right to Inspect Pretrial Congressional Testimony of Government Witnesses"

1971 —

80 Yale Law Journal 1388. Cited in Calley v. Callaway, 519 F.2d 185 (5th Cir. 1975) (Bell, J., dissenting); 382 F. Supp. 650 (M.D. Ga. 1974)

"Insurance Mergers and the Clayton Act"

1969 —

78 Yale Law Journal 1404. Cited by the Federal Trade Commission in 1972 Trade Reg. Rep. (vol. 3) 20,163 at 22, 148 n.8 (FTC decision).

Other Significant Articles

"Eloquence, Reason and Necessity: Gitlow v. New York After 9/11"

Fall 2014 —

10 Judicial Notice 18

"The Roberson Privacy Controversy"

Issue No. 4; 2006 —

Journal of the Historical Society of the Courts of the State of New York

"The Cardozo Mystery"

2003 —

75 New York State Bar Journal (No. 4) 47

"Is Nepotism Sending the U.S. Back to the Middle Ages?"

Oct. 12, 2003 —

Baltimore Sun

"William O. Douglas — An Inspiring, Maddening American"

Mar. 16, 2003 —

Baltimore Sun

"The $1.2 Million That Just Fell Off the Truck"

Oct. 13, 2002 —

Baltimore Sun

"Putting the Second Commandment in Context"

"Icons Beget Iconoclasts"

Sept. 2001 —

American Lawyer

"Of Death and Taxes"

Jan. 2001 —

American Lawyer

"Protect and Defend: High Lawyerly Verisimilitude"

Dec. 17. 2000 —

Baltimore Sun

"Why Are All These Lawyers Setting U.S. Public Policy?"

Aug. 13, 2000 —

Baltimore Sun

"Defining Privacy – A Task Still Undone"

Dec. 10, 1995 —

Baltimore Sun

"The Rehnquist Court: High on the Middle Ground"

Aug. 20, 1995 —

Baltimore Sun

"Don't Punish Bill Clinton for his Vietnam Draft Status"

Nov. 27, 1992(Op-Ed) —

Chicago Tribune

"A 'Free Speech' Claim that Distorts the First Amendment"

Jan. 13, 1991 (Op-Ed) —

Boston Globe

"Book vs. People, or: Does Souter Read Too Much?"

Sept. 17, 1990 —

Chicago Tribune

"Medical Privacy and the Right to Know"

December 1987 —

Bulletin of the New York Academy of Medicine

"Mathematics With a Human Face "

June 11, 1984 (book review) —

Wall Street Journal

"Life as a 'Prisoner's Dilemma'"

Apr. 26, 1984 (book review) —

Wall Street Journal

"An Important Vietnam Novel"

Feb. 15 , 1984 (book review) —

Wall Street Journal

"Amnesty and Calley"

Mar. 22, 1975 (Op-Ed) —

N.Y. Times

"The Law and Literature"

May – June 1994 —

New York State Bar Journal

"Shakespeare the Unacknowledged Legislator"

Jan. 1994 —

New York State Bar Journal

"Justice Holmes in Love"

July – Aug. 1992 —

New York State Bar Journal

"The Qualities of an American Advocate"

Nov. 1989 —

New York State Bar Journal

"Declining Professionalism and Its Causes"

Mar. 1992 —

The Record of the Assoc. of the Bar of the City of New York

"Punitive Damages in Securities Arbitrations"

July – Aug. 1991 —

Commodities Law Letter
Show More

publications (83)
Education
Yale Law School, J.D., 1973
Note and Comment Editor, Yale Law Journal
City College of New York, B.S., 1968
Phi Beta Kappa
Felix Cohen Prize in Legal Philosophy
Admissions
U.S. Supreme Court
U.S. Tax Court
U.S. Court of Appeals, First Circuit
U.S. Court of Appeals, Second Circuit
U.S. Court of Appeals, Third Circuit
U.S. District Court, Southern District of New York
U.S. District Court, Eastern District of New York
U.S. District Court, Western District of New York
New York State
Memberships
American Bar Association (section on litigation)
New York State Bar Association
Commercial & Federal Litigation Section
Task Force on the Evaluation of Candidates for Election to Judicial Office (2018-19)
Federal Bar Council
Supreme Court Historical Society
New York City Bar Association
Chair, Committee on Legal History (2017-20)
Committee on Military Justice/Military Affairs (1975-78)
Committee on Federal Legislation (1978-81)
Committee on Lectures and Continuing Education (1982-85)
Committee on the Profession (1988-92)
Committee on Women in the Profession (1992-95)
New York County Lawyers' Association
Chair, Committee on Law and Literature 1999-2009
President, The Law & Humanities Institute (1991-98)
Member, Harper Lee Prize for Legal Fiction Selection Committee (2014)
Historical Society of the New York Courts
American Civil Liberties Union